Innovation Spaces
Inclusive
Collaborative
Creative
The Brendan Iribe Center is a revolutionary facility where formal and informal learning coexist. Students, faculty members and entrepreneurs come together to create amazing new things and develop ideas that will change the world.
Even the classrooms were designed to foster teamwork and innovation, eschewing traditional rows of seating in favor of round tables and display screens on all four walls. These flexible classrooms will promote teamwork and active learning. And welcoming common areas—including an expansive green space along Baltimore Avenue—will extend the collaborative environment to the broader community.
Teamwork & Innovation
The layout makes the classrooms feel more intimate and makes for a better learning experience. You're not all facing the same direction because you're in groups, but no matter where you're sitting you can see the screens, and the instructor is more central, so it makes it feel more interactive.
Angela Lambert, Computer Science Major
The Innovate Spaces
The perfect environment for technology and science to continue redefining what's possible.
Michael Antonov Auditorium
The Michael Antonov Auditorium will be the stage for many courses, speaking series and guest lectures.

"We've gone to great lengths to create a building that can be flexible as needs change and technology advances."
— Brian Kowalchuk, global director of design for HDR, lead architect for the Brendan Iribe Center
Seating and Tables

The 298-seat auditorium features shared tables

Alternative Seating

180-degree swiveling chairs that enable students to alternate between lecture mode and collaborative teamwork
Andrew Reisse Park
Built in memory of Andrew Reisse '01, a co-founder and lead engineer of Oculus, the rooftop park features lush gardens and a tranquil fountain, along with a stunning view of Baltimore Avenue and campus. An adjacent art gallery displays Reisse's nature photography, offering visitors a space to reflect and recharge.
The Brendan Iribe Center's Rooftop Park honors the memory of Reisse, who was an avid photographer and inspiring mentor.
About

The Brendan Iribe Center's Rooftop Park honors the memory of Reisse, who was an avid photographer and inspiring mentor.
Research Labs
The entire UMD community will share in the excitement of the latest drone research or robotics work in the visible high-bay labs adjacent to the ground floor lobby. With state-of-the-art labs designed for the research and development of robotics, unmanned aerial vehicles, virtual and augmented reality and more, Maryland faculty and students will usher in a new era of computer science and engineering at the university.
Labs

13 state-of-the-art research labs

Includes four high-bay laboratories
Classrooms
Four new collaborative classrooms were designed with an eye to fostering teamwork and innovation, eschewing traditional rows of seating for round tables and display screens on all four walls.
"The advances our students will achieve are going to give rise to new tech companies, boosting not only the University of Maryland but helping fuel economic development in the state of Maryland."
- Mary Ann Rankin, Provost
Jagdeep Singh Family Makerspace
With six laboratories surrounded by glass walls, the 5,300-square-foot Singh Sandbox is a makerspace that is sure to become a showplace of inspiring student creations. It is the only makerspace on campus driven by students and the only one where any student, regardless of major, has access to specialized tools and equipment to work out an idea.
Stats

5,300 square feet
Six laboratories
"Makerspaces are a wonderful way for students to work with tangible hardware and apply real-life problem-solving skills to create something in the real world."
- Jagdeep Singh
Seminar Rooms
Two seminar rooms offer the perfect space for collaborative meetings, study sessions and seminars with top computer science and engineering professionals.
"We recognize this as a decisive moment for computer science at Maryland."
- Elizabeth Stevinson Iribe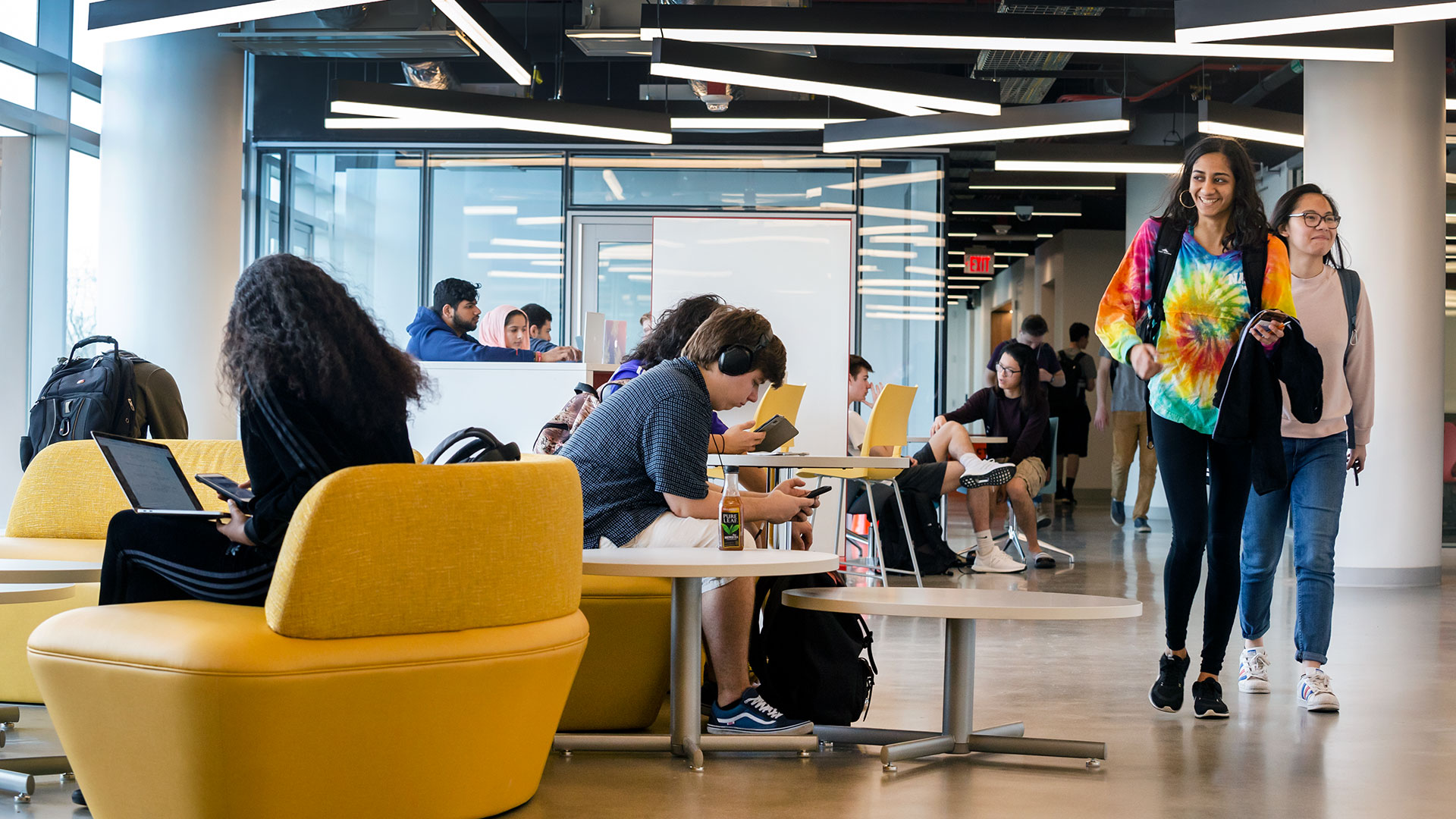 Technology & Community
The Brendan Iribe Center offers a new collaborative environment where students and faculty can come together to create, code and design the next great advancements in computer science and engineering. The building, comprised of a six-story instructional and research space and a 298-person auditorium, creates an integrated academic and research center.
Students and faculty can access specialized equipment in the Singh Sandbox that isn't available elsewhere on campus, including two laser cutters, a fully equipped wood shop, a large-format printer, a vinyl cutter, a metal milling machine, two types of 3D printers, an advanced electronics fabrication and analysis shop, sewing machines, hot glue guns, a button maker and more. The makerspace allows students, faculty, industry and community partners to share knowledge and work on projects individually or in collaboration.
A double-height ground floor has a plethora of opportunities for casual interaction with seating areas and a café.